Did you know that with SnapSync you can effectively manage your business Social Media presence?
If your business is listed on Facebook, Google my Business, Google+, Foursquare and your own website is connected to SnapSync you can easily add enhanced content, make updates and share information simultaneously across these great platforms from one central location – your SnapSync Dashboard. You can even monitor the responses you receive from social media posting through your SnapSync portal eg. comments/likes/shares etc.
Let's take a look at a quick post made from our favourite demo business, The Shine Online Beauty Salon.
Here where we make social posts in SnapSync: (SnapSync Section -'Post')

Simply add the text and any additional content you would like to share where the message 'Make a new post….' is featured.
You can also choose to schedule the message as below, saving yourself time and allowing to you plan ahead for a proactive approach to your social media marketing efforts.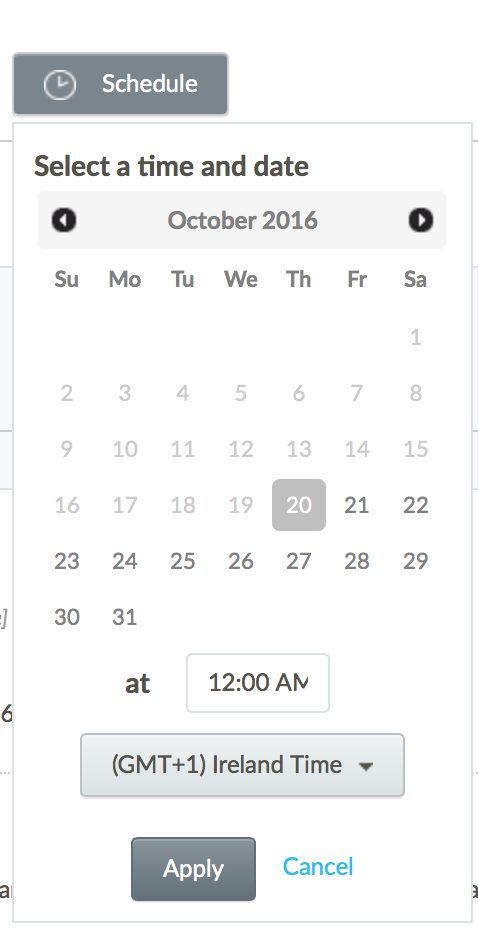 Here we've entered the following text ' Today in the Salon receive a free treatment with every cut and colour! and added the website link using the 'Business Name' dropdown menu.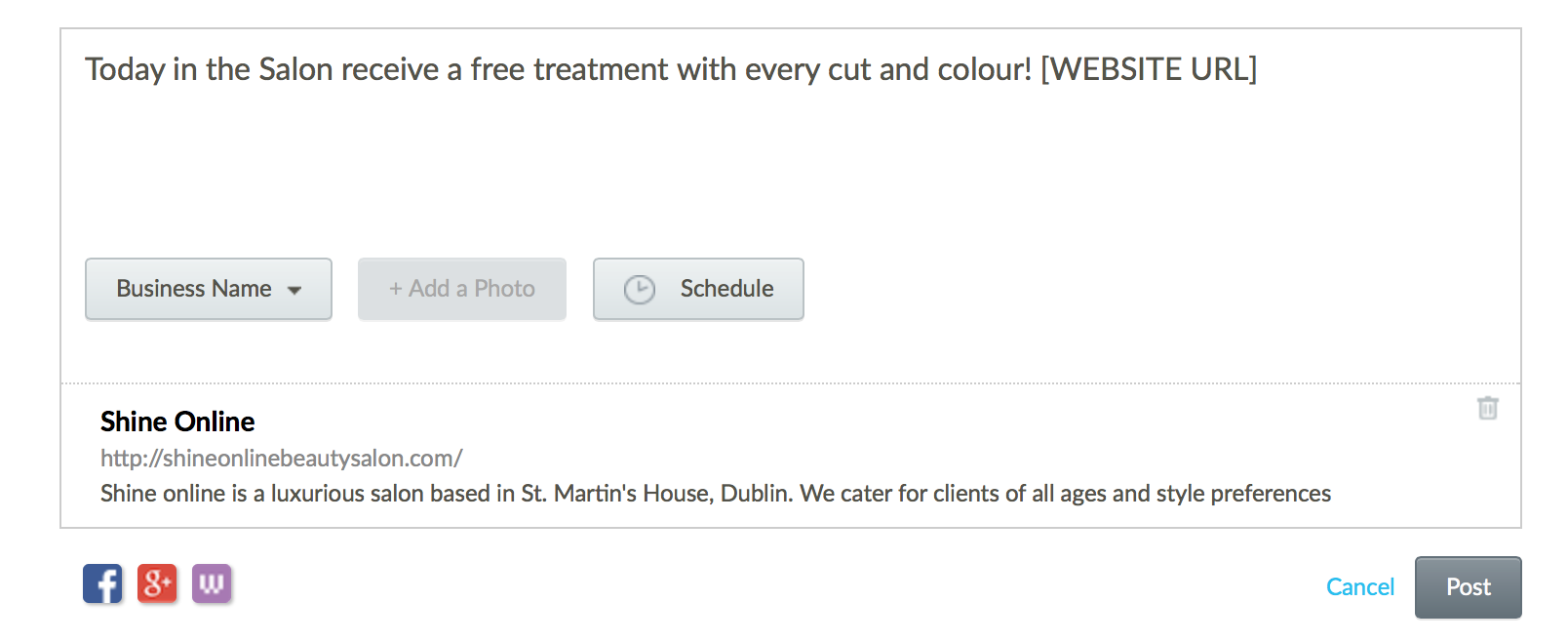 You can check or uncheck the platforms you would like to post your message to by clicking on the icons representing the social media on the SnapSync network. In the post above you will see that I have chosen all of the Social Media which our sample business is synced with. The 'f' represents Facebook, the 'g+' represents Google + and the 'w' represents the Shine Online Webpage. To uncheck a platform, simply click on the icon, it will grey out and your post will not be published on that platform.
Once the Social Post is ready simply click the 'Post' button.
You'll be able to see that the post is shared when it appears in the Social Post Feed 'All posts' and track it's performance as you can see here: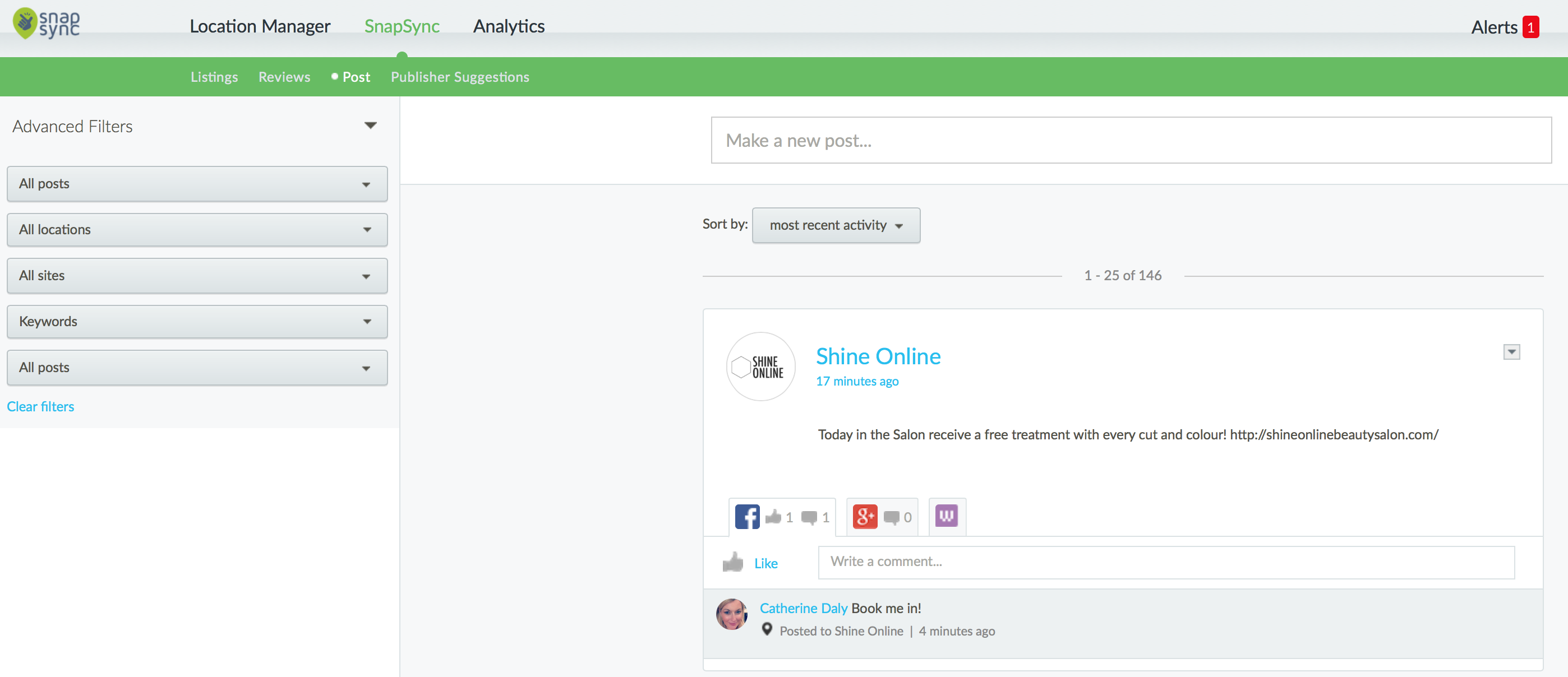 Use the listings tab 'View Listing' to check out the post on Facebook and Google Plus too.
Here are some screenshots taken just after the message was posted from SnapSync: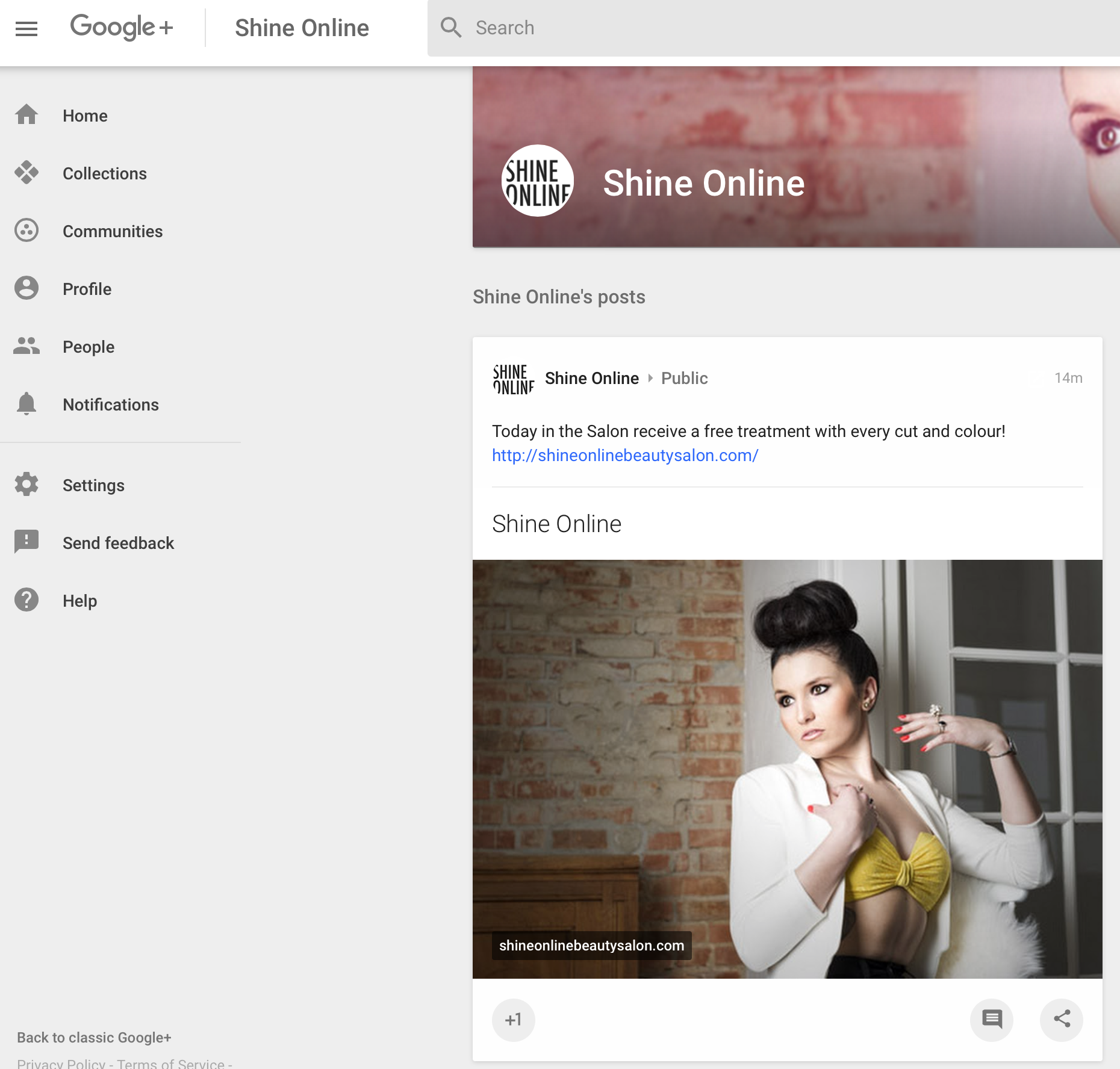 Social Posting on SnapSync is incredibly simple and effective. It will save your business time and money and help bring customers to your door.
Try it now for yourself, if you need any assistance, as always, our team is available during office hours to assist you, simply call us on (01) 6188000.
Click here to login www.snapsync.ie
Not yet using SnapSync? Find out more and run a free Scan on your business listings at www.snapsync.ie today!
Happy posting!